As a parent, I know how frustrating it can be when your children don't listen. You ask them to do something and they ignore you. You tell them to stop doing something and they keep going. It's enough to make any parent pull their hair out! But don't despair – I have some tips that will help you get your kids to listen. From setting clear boundaries to establishing a consistent routine, these tips will help you get through the day with less stress and more cooperation.
Here are 10 tips to help get your kids to listen.
Establish a Respectful Connection
Make sure to establish a connection between you and your kids that is based on respect. Instead of immediately issuing commands, take a few moments to establish an understanding and connection before asking them to do something. Respectful connections allow for open dialogue and understanding between you and your kids.
Have Fun
Take time to have fun with your kids and make listening more enjoyable. Play games, read stories, or do something else together that encourages cooperation and listening. When your kids have fun, they're more likely to stay engaged and listen. Plus, it's a great way to strengthen the bond between parent and child. When you have fun together, the time will fly by!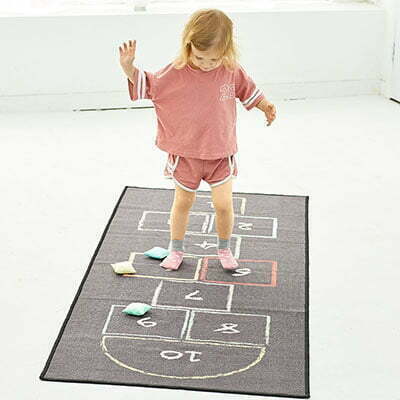 HOPSCOTCH PLAYMAT + SAND BAGS
MODERN NURSERY
Teach your little one how to play Hopscotch, without the mess of chalk. With this hopscotch playmat and sand bags your little one can play this fun game both inside and outside! This is a nice activity for rainy days. The best part is you don't have to keep redrawing the hopscotch outline! Have some good active fun with our Hip Hopscotch Mat. A fun way to develop balance and motor skills.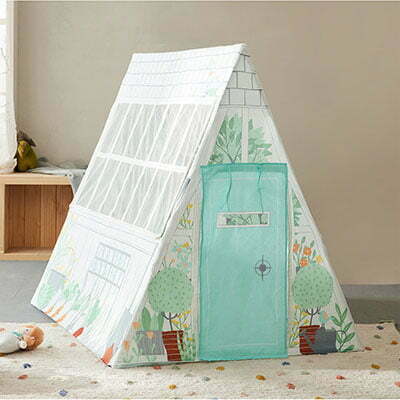 GREENHOUSE PLAYHOME
MODERN NURSERY
Everyone can pretend to have a green thumb with our Greenhouse Playhome. Beautiful, whimsical graphics printed on cotton canvas surround this inspired frame design. Mesh paned windows on both sides open up to let the sun shine in. Poles included to achieve the awning effect. Come plant yourself inside!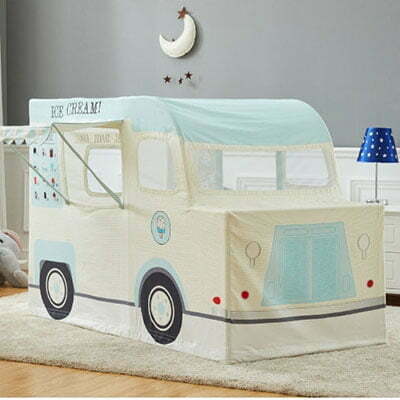 ICE CREAM TRUCK PLAY TENT
MODERN NURSERY
Bring sweet treats to your neighborhood with the original Ice Cream Truck. This play tent with a window and awning allows children to serve treats to friends and engage in imaginative play. Ice cream designs are featured on the side and front of the truck.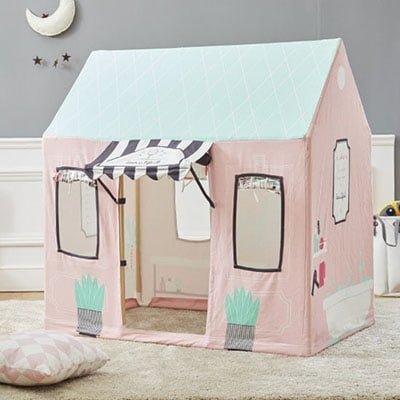 BEAUTY SALON PLAY TENT
MODERN NURSERY
Now your little one can treat herself to a makeover and spend a day at the spa with the Beauty Salon Play Tent. A beautiful pink tent that features an awning with a screen door with a mail slot for fun, imaginative play.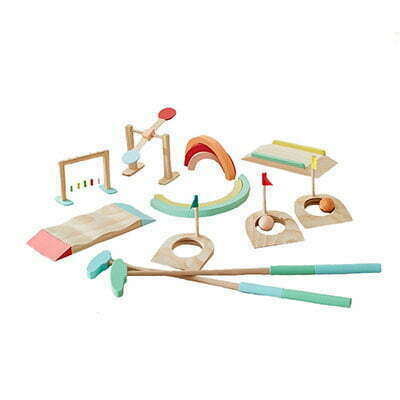 MINI GOLF SET
MODERN NURSERY
An instant favorite for your little golfer. Mini Golf Set would be a wonderful addition to your child's playroom. This golf set is sure to entertain your little one! This set features three different holes, two golf balls, two clubs, and several different obstacles. This wooden golf set is ready for your child to get their first hole in one!
So many configurations make this game different every time. Set up easy to difficult courses to make the game more challenging.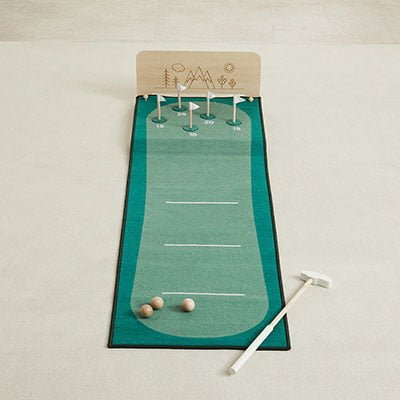 KEEN PUTTING GREEN
MODERN NURSERY
Create an indoor golf course with an adorable practice grass that will turn any beginner into a pro! Designed with a slight incline to make practice fun and challenging, and complete with five pins to mark the holes, three wooden balls, and a height-adjustable golf club. Start from any line and strike towards the gorgeous etched mountain view!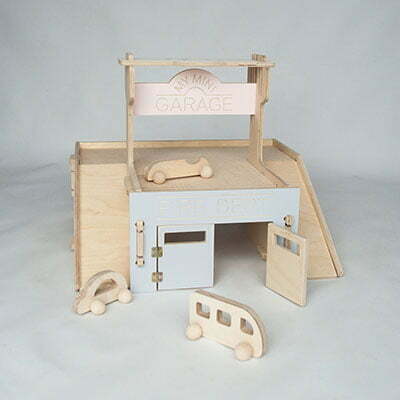 TOY MINI GARAGE
MODERN NURSERY
The My Mini Toy Garage is a handmade, hand-painted, two-story toy parking garage for children. Imaginatively designed, this toy garage features a helipad, parking lot, speed ramps, fire department, and a train station! It comes complete with a full set of five toy vehicles (car, helicopter, fire engine, bus, and race car), each built to take advantage of a unique part of the garage's ingenious features!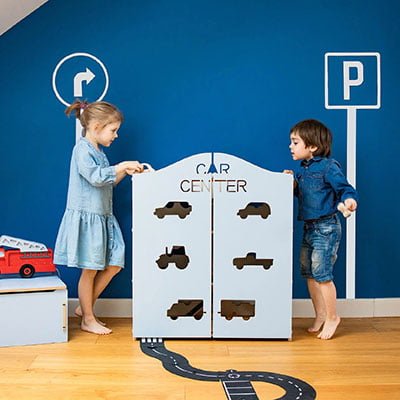 MY MINI CAR CENTER CABINET
MODERN NURSERY
An awesome three-in-one product perfect for smaller spaces, where every piece needs to serve a purpose – or three! Kids can use it as a multi-storey car park and race with their favorite toy cars; then, simply remove the platform slides and you're left with a spacious cabinet perfect for clothes, books or toys. Then, if you need a space divider, simply remove the shelves and turn the My Mini Car Center Cabinet into a four-winged screen – awesome if you want to create a play area or if multiple kiddos are sharing a room and need some personal space!
Give Clear Instructions
Give your kids clear instructions that are easy to understand. Speak in a calm voice and be sure to explain what you want them to do. If you give them a long list of instructions, break it down into smaller, more manageable chunks. Encourage them to ask questions if they don't understand something or need more information. Show them that you're interested in their questions, and make sure to provide a positive response. This will help them to stay focused and engaged in the task at hand.
Allow a Response Time
Once you've given the instructions, allow your children a few moments to process and respond. This shows that you are listening to them and gives them a chance to express their feelings or objections. It also allows them to be creative in coming up with ideas on how to reach a solution that works for everyone. By allowing your children the chance to voice their opinions, you are teaching them the importance of communication and helping them build self-confidence. Plus, you may even get an unexpected but awesome idea from them!
Be Consistent
Make sure that you are being consistent in your expectations of your kids. Don't let them get away with one thing today and then be punished for the same thing tomorrow. This will only create confusion and inconsistency in your parenting style. Make sure you are setting a consistent standard of expectations for them, and stick to it!
Use Positive Reinforcement
Whenever possible, use positive reinforcement to reward your kids for listening and following instructions. Praise them for their efforts and be sure to let them know you are proud of them. This will encourage them to keep trying and make good decisions. You may also want to find creative ways to reward your children, such as offering a special treat or a fun activity. This will encourage them to understand that listening and following instructions are important and help build positive behavior habits.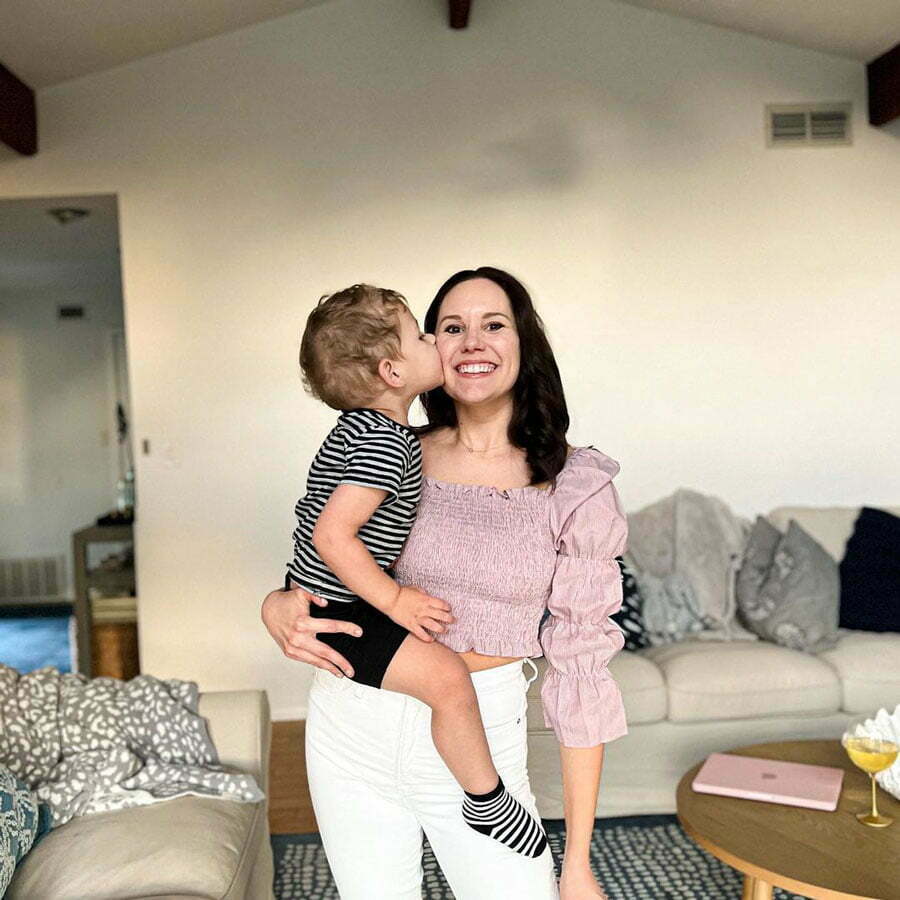 Set Limits
Ensure your kids understand the rules and boundaries and that there are consequences for not listening or following instructions. Explain that you are the parent and that you have their best interests in mind. Let them know that it is not okay to push boundaries or disrespect your authority. By setting limits, your kids will learn important life lessons and have a better understanding of what is expected from them.
Give Choices
Whenever possible, give your kids choices so that they can make the decision themselves. This gives them a sense of empowerment and will help them to become more independent. For example, when it comes to deciding what to eat for dinner, give them two or three options and let them choose. Even if you don't love all of the options you give them, it's important to respect their decision. This teaches your kids that they can make their own decisions and be trusted to do so.
Be Patient
Kids don't always listen the first time. Be patient and give them a few chances to get it right. Young children often need repetition and reminders. When you have to repeat yourself, try to find creative ways to phrase the same thing. Sometimes different language or visual aids help kids better understand what you want them to do.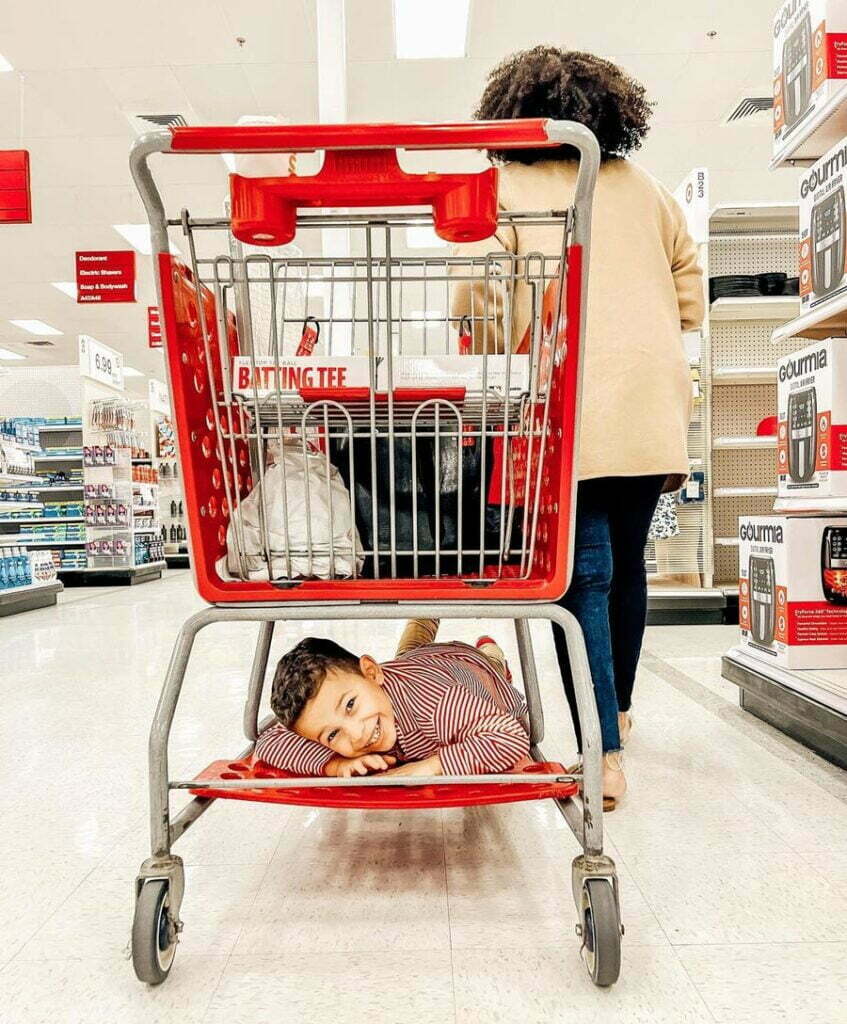 Model Good Listening
Be sure to set a good example by listening to your kids and demonstrating proper behavior yourself. Show them how to keep their body language in check and that it's okay to disagree with someone but still be respectful. Ask open-ended questions to get them thinking and talking, and actively listen to what they have to say. It's also a great idea to be sure you're aware of your own body language, so that your kids know you're listening.
The S+S product selections are curated by the editorial team. If you buy something through our links, we may earn an affiliate commission, at no cost to you. We only recommend products we genuinely love.